The Internet Has Lost Its Mind Over This Photo of Justin Trudeau's Butt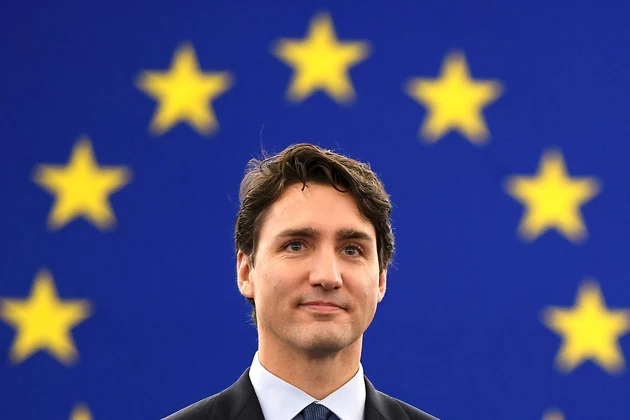 The Canadian Prime Minister's body is too bootylicious for the Internet, it seems.
Users across social media are freaking out over a photo of Justin Trudeau. The image, a photo of the politician dressed in a pair of black backside-hugging pants, has gone viral for its display of "bubble butt" perfection.
While the exact origin of the picture is still in question—it is likely to have been taken during a speaking engagement earlier in February—it seems to have originated from this user:
@joereid pic.twitter.com/P7K7gwrPev

— Nilah Shea (@ladynilah) February 23, 2017
Meanwhile, Twitter can't stop freaking out (and thirsting) over the photo. See some hilarious reactions, below:
I made a quick reference guide for looking at Justin Trudeau pic.twitter.com/8EL8z2TRwO

— PunchesBears ㅎ㉨ㅎ (@punchesbears) February 22, 2017
— Calvin (@calvinstowell) February 22, 2017
Noah fence but Justin Trudeau is stoopid thicc pic.twitter.com/IK92E4e0r0

— chanephew (@chanicelr) February 24, 2017
Please. PLEASE look at Justin Trudeau's butt. MOTHER OF GOD pic.twitter.com/UZqir24rAM

— Courtney Kenyon (@Courtneyken) February 24, 2017
Find someone who loves you as much the internet loves Justin Trudeau's butt.

— hotgun (@shackleshotgun) February 24, 2017
#BobsBurgers episode: Tina convinces her family to go to a restauranteur convention in Canada so she can get close to @JustinTrudeau 's butt https://t.co/bUfZCxvswm

— Murphy Andromeda (@Murphy_Monster) February 25, 2017
Raise your hand if you've been personally victimized by Justin Trudeau's butt. pic.twitter.com/ActAapfo4s

— Oddity (@TraceOddity) February 24, 2017
The Best Celebrity Tweets of All Time:

Source:
The Internet Has Lost Its Mind Over This Photo of Justin Trudeau's Butt