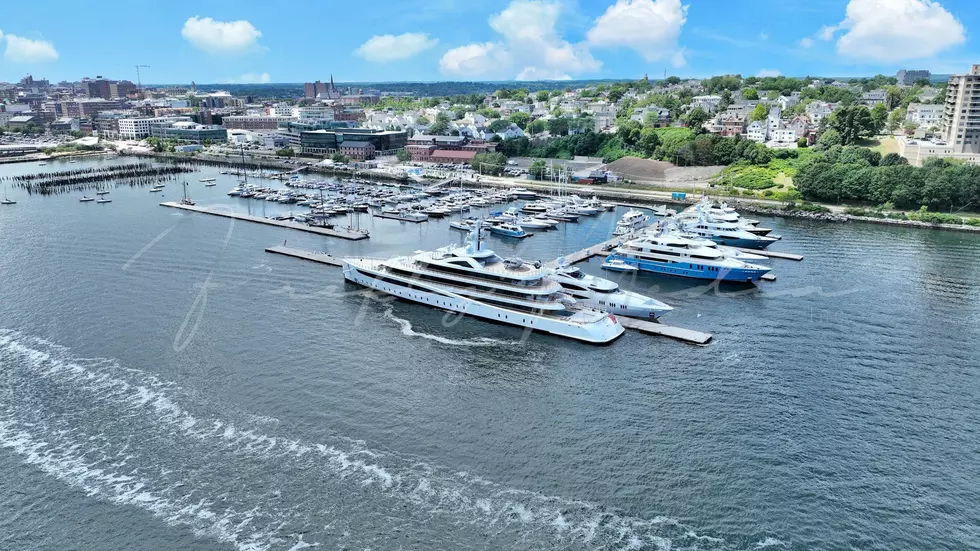 7 Birds-Eye View Photos of a Mega Yacht Docked in Portland Harbor
Firefly Media Inc.
As more and more people flock to Maine for a visit, Portland Harbor starts to see more and more of those visitors arrive by private boat. One of those boats has been docked in Portland Harbor over the past week and this particular boat stands out in the harbor more than any other.
Nicholas LaRiviere of Firefly Media Inc. shared photos with us that he took with his drone flying over Portland Harbor. Down below is a massive yacht that dwarfs all the others, that according to GoLocalProv.com is named the Veva, and it was docked in Newport, Rhode Island before coming up to Portland.
The $175 million mega yacht is sitting at the east end of Portland Harbor and is reportedly owned by billionaire Frank Fertitta who also owns Station Casinos in Las Vegas and is the founder of the company that owns the UFC. For those who aren't familiar, that's Ultimate Fight Championship, a mixed martial arts company that broadcasts events regularly on streaming and pay-per-view service.
Super Yacht Fan lists the Veva as 94 meters in length, able to host up to 14 guests and a crew of 18. Oh, and it also has a helicopter and a landing pad. No need to take a small boat into the city as long as you can find a place to touchdown.
Nicholas was kind enough to send us seven photos he took during his drone flight over Portland Harbor as it passed by the mega yacht, giving you an idea of just how big this thing is and how cool it looks with the city of Portland behind it.
7 Birds-Eye View Photos of a Mega Yacht Docked in Portland Harbor
Things to Do While Island Hopping Casco Bay Islands in Portland, Maine