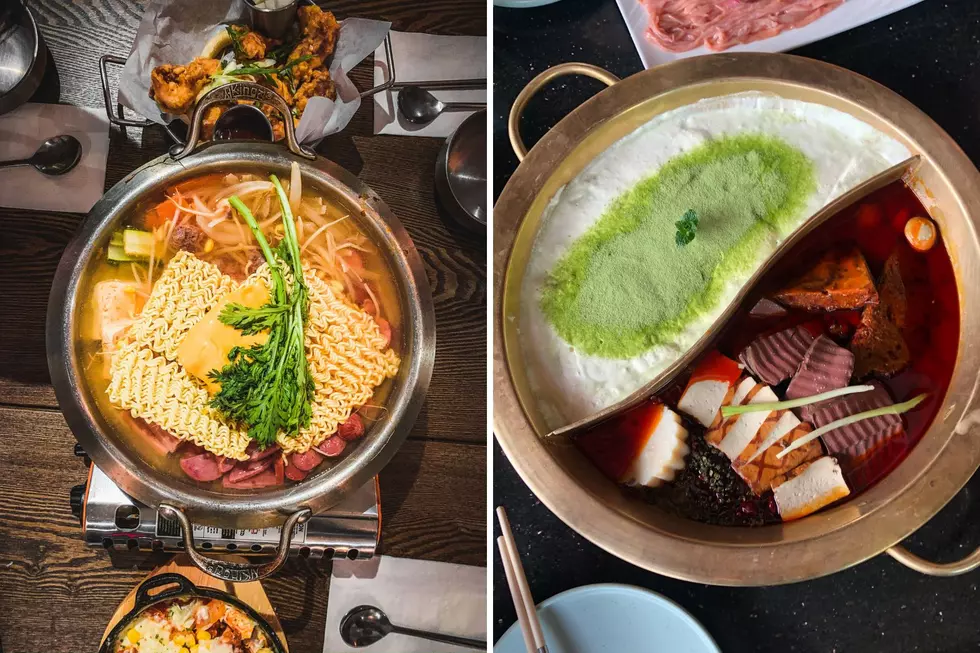 What is a Hot Pot Restaurant and Does Portland, Maine Have One?
Sean Lee / Xiong Gordon
What is a hot pot restaurant?
Hibachi restaurant? Sure. An all-you-can-eat grill experience like Fire & Ice in Boston? Absolutely. But never have I heard of a Hot Pot restaurant until I was scrolling through social media the other day -- and now I'm super intrigued.
According to Sichuan Kitchen in Portland, when it comes to Hot Pot,
Think of it as Asian fondue where everyone at the table cooks their own food in a communal pot of simmering broth. A big pot is set in the center of the table containing boiling hot broth with a heating element underneath. Various raw ingredients are served around the pot, such as thinly sliced meat, seafood, vegetables, tofu, dumplings, and noodles. The guests cook the ingredients in the broth and eat them with a dipping sauce.
So, basically, it's along the same lines as Hibachi, except instead of being cooked on a massive skillet that you sit around, everything is cooked in one massive pot of broth.
Interestingly enough, Sichuan Kitchen actually used to offer Hot Pot. And even though Hot Pot is still listed on their website, it sounds like some Portlanders have confirmed that, at least temporarily, it's actually not.
Is there a Hot Pot restaurant in Portland?
The topic was sparked by Hayley Czesnik in the Portland, Maine group on Facebook, when she mentioned Portland needs a Hot Pot restaurant. And naturally, since the subject was about food in Portland, the comments section blew up.
Some commenters suggested that N to Tail on Exchange Street has Hot Pot, but Hayley mentioned that customers can grill their own food there, but there's no broth involved.
When a few commenters mentioned Sichuan Kitchen, it was confirmed by a few commenters that again, at least temporarily, Hot Pot is not offered. Carly Anne mentioned that she went last Friday and it wasn't offered, and they didn't mention it only being offered on a specific day, either.
That said, based on what Jaimie Mulligan had to say, it sounds like if enough Portlanders and other Mainers wanted it, it could come back.
When I went in there the last time, they said that there was a limited demand for it. I bet if enough people ask for it then they might bring it back.
For what it's worth, even though Yelp has a listing for Top 10 Hot Pot Restaurants in Portland, Maine, other than two sponsored mentions at the top of the page, there is only one result that pops up, and it's not even in Maine.
Pink Bamboo Hot Pot Cafe in Portsmouth, New Hampshire.
30 Cozy Restaurants in Portland, Maine, to Hunker Down in the Cold
'Tis the season to sit next to a fire with a seasonal cocktail and a warm meal. This is a list of cozy restaurants to get comfortable in hidden away from the cold.
50 Most Popular Chain Restaurants in America
YouGov investigated the most popular dining brands in the country, and Stacker compiled the list to give readers context on the findings. Read on to look through America's vast and divergent variety of restaurants—maybe you'll even find a favorite or two.