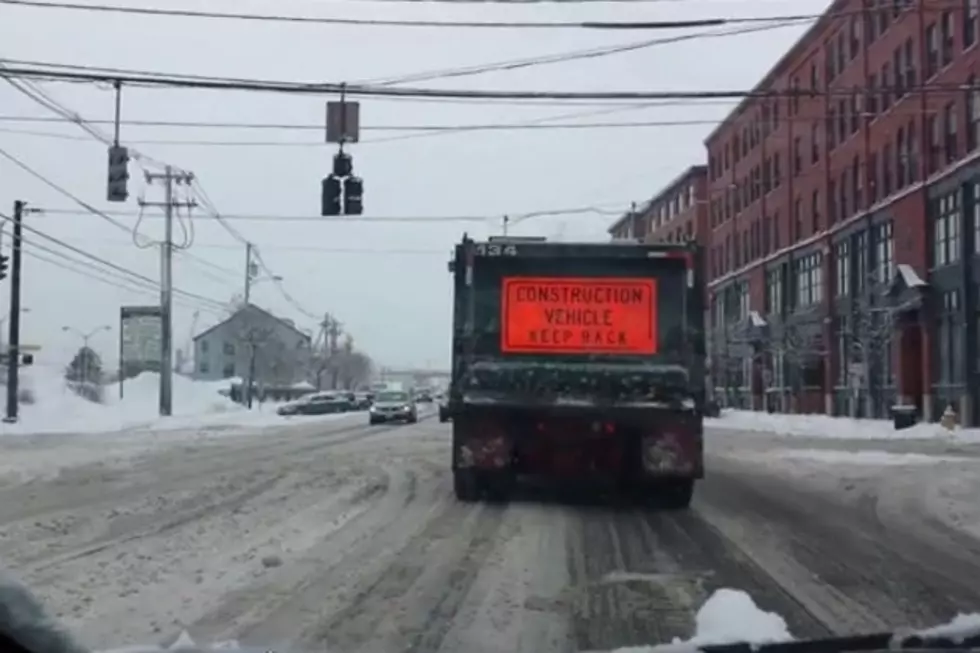 Just How Close Are We Going To Get To a Winter Snowfall Record?
WJBQ.com
Over the past two weeks, the snow just never seems to stop in Maine. Just as we dig out from one storm another is on the doorstep. This seemingly non-stop snow made me wonder if this could be the snowiest winter ever. I found the answer.
Sunday through Tuesday we're going to get snow that will dump another 10-15 inches in Portland. So where will that put us on the snowiest winter of all time scale?
According to the National Weather Service, the snowiest winter in Portland from December to February between 1881 and 2011 was the winter of 1970-1971 when 107.6 inches fell. The least snowiest was 1936-1937 when only 9.5 inches fell.
As of this writing on Sunday before any of the snow we've gotten in the latest long storm has been counted, we have had 66.6 inches of snow in Portland. That's an ominous number isn't it?
66.6 inches of snow would put us at the 27th snowiest winter in Portland out of the last 113 years. But it's not over yet.
Let's say we hit the jackpot and get another 15 inches in Portland with this latest storm. That would put us at 81.6 inches and make it the 11th snowiest winter on record.
Even with that, it wouldn't be the snowiest winter in recent memory. The winter of 2007-2008 went down as the fifth snowiest on record. I remember that well. It's a wonder my shovel survived.
What does make our stats for this winter interesting is that the bulk of our winter's snowfall has been over the past two weeks. That's what makes this winter even harder to bear.
In case you're curious, here's the complete list of snowfall totals for every year on record. How many of these winter's do you remember?
Ranking 1881/82-2010/11
Dec - Jan - Feb
| | | | | |
| --- | --- | --- | --- | --- |
| | | | | |
| Rank | | Snowfall | | Season |
| 1 | | 107.6 | | 1970/71 |
| 2 | | 102.7 | | 1933/34 |
| 3 | | 101.1 | | 1922/23 |
| 4 | | 91.4 | | 1951/52 |
| 5 | | 90.7 | | 2007/08 |
| 6 | | 90.1 | | 1883/84 |
| 7 | | 88.6 | | 1934/35 |
| 8 | | 87.5 | | 1995/96 |
| 9 | | 85.8 | | 1978/79 |
| 10 | | 85.4 | | 1968/69 |
| 11 | | 78.1 | | 1881/82 |
| 12 | | 77.3 | | 1886/87 |
| 13 | | 75.9 | | 1926/27 |
| 14 | | 75.4 | | 1906/07 |
| 15 | | 74.4 | | 1893/94 |
| 16 | | 73.1 | | 1919/20 |
| 17 | | 72.9 | | 1966/67 |
| 18 | | 72.3 | | 1956/57 |
| 19 | | 71.7 | | 1897/98 |
| 20 | | 70.8 | | 1944/45 |
| 21 | | 70.5 | | 2008/09 |
| 22 | | 70.0 | | 1892/93 |
| 23 | | 69.6 | | 2004/05 |
| 24 | | 69.2 | | 2010/11 |
| 25 | | 68.6 | | 1965/66 |
| 26 | | 67.4 | | 1959/60 |
| 27 | | 66.4 | | 1976/77 |
| 28 | | 66.0 | | 1916/17 |
| 29 | | 65.0 | | 1890/91 |
| 30 | | 63.8 | | 1904/05 |
| | | 63.8 | | 1993/94 |
| 32 | | 63.1 | | 1935/36 |
| 33 | | 62.0 | | 1977/78 |
| 34 | | 61.7 | | 1947/48 |
| 35 | | 61.6 | | 1989/90 |
| 36 | | 61.5 | | 1946/47 |
| | | 61.5 | | 1957/58 |
| 38 | | 61.3 | | 1961/62 |
| 39 | | 60.9 | | 1981/82 |
| 40 | | 60.7 | | 1923/24 |
| 41 | | 60.1 | | 1908/09 |
| 42 | | 59.9 | | 1945/46 |
| 43 | | 59.3 | | 1887/88 |
| 44 | | 58.5 | | 2000/01 |
| 45 | | 57.5 | | 1971/72 |
| 46 | | 57.3 | | 1955/56 |
| 47 | | 56.0 | | 1902/03 |
| 48 | | 55.8 | | 1910/11 |
| 49 | | 55.5 | | 1986/87 |
| 50 | | 55.3 | | 1962/63 |
| 51 | | 55.0 | | 1963/64 |
| 52 | | 53.7 | | 1903/04 |
| 53 | | 52.9 | | 2002/03 |
| 54 | | 52.7 | | 1992/93 |
| 55 | | 51.9 | | 1949/50 |
| 56 | | 51.3 | | 1898/99 |
| | | 51.3 | | 1972/73 |
| 58 | | 50.9 | | 1909/10 |
| | | 50.9 | | 1921/22 |
| 60 | | 49.7 | | 1987/88 |
| 61 | | 49.6 | | 1960/61 |
| 62 | | 49.5 | | 1899/00 |
| | | 49.5 | | 1964/65 |
| 64 | | 48.3 | | 1975/76 |
| 65 | | 48.1 | | 1900/01 |
| 66 | | 47.7 | | 1925/26 |
| 67 | | 47.6 | | 1911/12 |
| 68 | | 47.1 | | 1930/31 |
| | | 47.1 | | 1931/32 |
| 70 | | 46.4 | | 1917/18 |
| 71 | | 46.0 | | 1928/29 |
| 72 | | 45.1 | | 1901/02 |
| 73 | | 44.5 | | 1915/16 |
| 74 | | 44.3 | | 1932/33 |
| 75 | | 44.2 | | 1983/84 |
| 76 | | 43.7 | | 2005/06 |
| 77 | | 43.4 | | 1967/68 |
| 78 | | 43.2 | | 1920/21 |
| 79 | | 42.6 | | 1982/83 |
| 80 | | 42.5 | | 1927/28 |
| 81 | | 42.4 | | 1884/85 |
| 82 | | 42.3 | | 1929/30 |
| 83 | | 42.2 | | 1924/25 |
| 84 | | 42.1 | | 1885/86 |
| 85 | | 42.0 | | 1896/97 |
| 86 | | 41.9 | | 1882/83 |
| 87 | | 41.8 | | 1985/86 |
| 88 | | 40.8 | | 1943/44 |
| 89 | | 40.7 | | 1969/70 |
| 90 | | 39.2 | | 1942/43 |
| 91 | | 39.1 | | 1913/14 |
| | | 39.1 | | 1954/55 |
| | | 39.1 | | 1958/59 |
| | | 39.1 | | 2003/04 |
| 95 | | 38.8 | | 1937/38 |
| 96 | | 37.6 | | 1914/15 |
| 97 | | 37.0 | | 1895/96 |
| | | 37.0 | | 2009/10 |
| 99 | | 36.8 | | 1939/40 |
| 100 | | 36.8 | | 1948/49 |
| 101 | | 36.3 | | 1984/85 |
| 102 | | 36.0 | | 1953/54 |
| | | 36.0 | | 1998/99 |
| 104 | | 35.8 | | 1940/41 |
| 105 | | 35.4 | | 1918/19 |
| 106 | | 35.2 | | 1974/75 |
| | | 35.2 | | 1991/92 |
| 108 | | 35.0 | | 1994/95 |
| 109 | | 34.4 | | 1950/51 |
| 110 | | 33.2 | | 1907/08 |
| 111 | | 32.3 | | 1905/06 |
| 112 | | 32.1 | | 1894/95 |
| 113 | | 31.9 | | 1891/92 |
| 114 | | 29.3 | | 1999/00 |
| 115 | | 26.8 | | 1980/81 |
| 116 | | 26.6 | | 1938/39 |
| 117 | | 26.5 | | 1973/74 |
| | | 26.5 | | 1990/91 |
| 119 | | 25.7 | | 2006/07 |
| 120 | | 25.1 | | 1952/53 |
| 121 | | 24.3 | | 1997/98 |
| 122 | | 23.8 | | 1912/13 |
| 123 | | 23.5 | | 1996/97 |
| 124 | | 21.9 | | 2001/02 |
| 125 | | 21.3 | | 1941/42 |
| | | 21.3 | | 1988/89 |
| 127 | | 21.2 | | 1889/90 |
| 128 | | 19.5 | | 1888/89 |
| 129 | | 19.0 | | 1979/80 |
| 130 | | 9.5 | | 1936/37 |