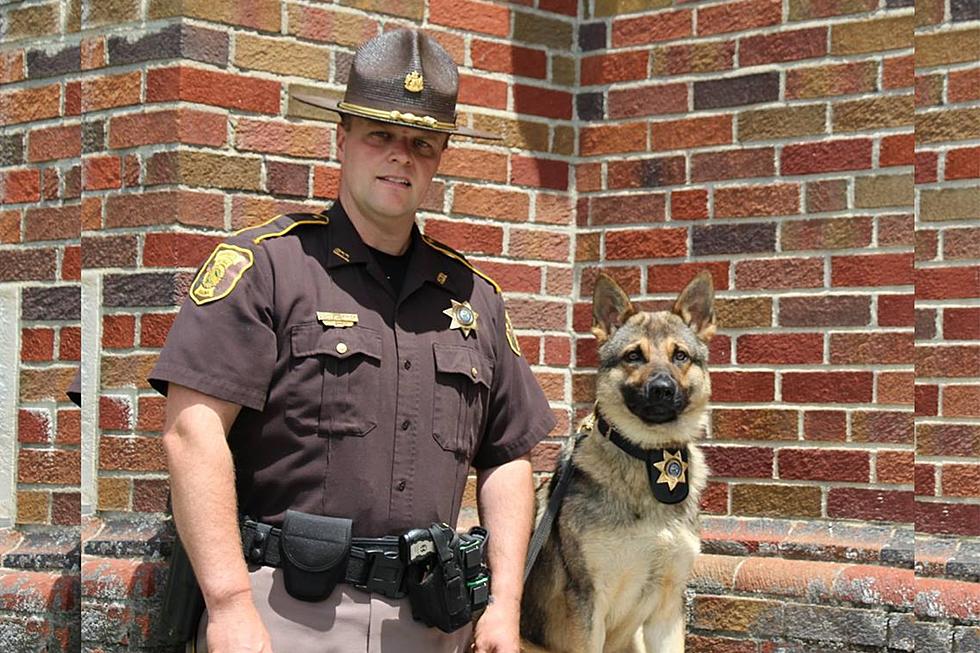 Retired Maine Police Dog That Responded to Hundreds of Calls Sadly Passes Away
Cumberland County Sheriff's Office - Maine via Facebook
The Cumberland County Sheriff's Office shared some sad news on their Facebook page on Thursday, April 13: retired K9 Vegas passed away.
The police dog, which began his work with the sheriff's office in 2013, "responded to hundreds of calls for service," the Facebook post stated.
It's no surprise that in K9 Vegas' nearly 10 years working with Deputy Cory Plummer, he was involved in finding lost items, locating children, and apprehending suspects.
Deputy Cory Plummer and K9 Vegas retired in 2021, after which the two got to spend their time relaxing and enjoying friends and family.
You can watch a short Facebook video from the sheriff's office recognizing the two for their years of service when they retired.
The sheriff's office noted in its Facebook post that multiple K9 handlers from various law enforcement agencies joined Plummer on Wednesday to celebrate K9 Vegas as he crossed over the "Rainbow Bridge."
"Your service, dedication and sacrifice to the citizens of Cumberland County and the State of Maine will not be forgotten," the sheriff's office stated.
Not surprisingly, there was an outpouring of condolences on the Facebook post. Here are just a few:
"It was an honor to be with you, Vegas, and your loving parents, for your final moments. You will be missed"
"Our condolences go out to Cory and his family. Amazing job Vegas and thank you for your service."
"Thank you for your service Vegas.. and Deputy Plummer for loving him.. great team."
Rest easy, K9 Vegas, and thanks for your service. You may be gone but are definitely not forgotten.
Most popular dog breeds that are good for families
RANKED: Here Are the 63 Smartest Dog Breeds
Does your loyal pup's breed make the list? Read on to see if you'll be bragging to the neighbors about your dog's intellectual prowess the next time you take your fur baby out for a walk. Don't worry: Even if your dog's breed doesn't land on the list, that doesn't mean he's not a good boy--some traits simply can't be measured.