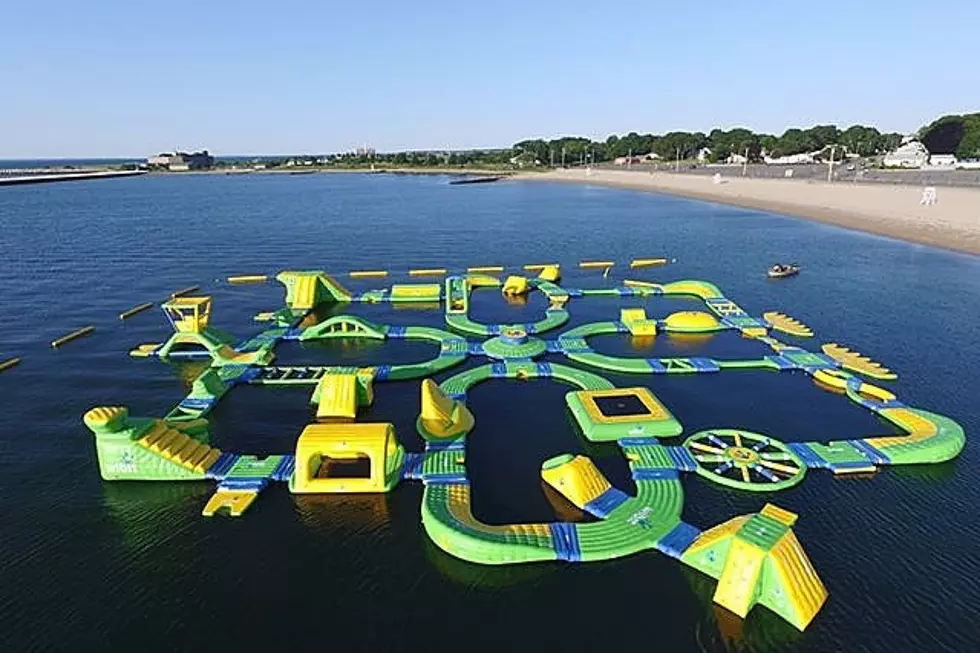 This Epic Floating Water Park Returning to Massachusetts Is Worth a Road Trip
Courtesy of Victor Lourenco
Ahhhh, 2019 in New Bedford. Few of us had ever uttered the words "social distancing," and no one had ever heard of COVID-19.
That was the summer that Altitude H20 arrived off of East Beach. At the end of the summer, Altitude H20 promised that we'd see them back in 2020. Clearly, that didn't happen.
Now, here we are, summer is quickly approaching, as is summer vacation for the kids. Will they have the chance to bounce and play around on the floating water attractions again?
The answer is definitely "yes." According to the Mayor Jon Mitchell's office, "yes, permitting is complete," and the water park is a go.
One change from 2019 will be the company that runs the water park. While it will no longer be run by Altitude H20, most guests won't notice much of a difference. The company that distributed the inflatables to Altitude H20 has now begun to run operations, so things will look very similar. In fact, one of the only changes you might see is the addition of some additional attractions.
WhoaZone is an inflatable playground that will sit in the water again this summer. Picture Funz Trampoline Park, only in the water. There are floating, inflatable monkey bars, slides, trampolines and balance beams.
Interestingly enough, the park will be run by New Bedford native Leigh-Anne Hall, who was previously involved with the Cirque Du Soleil show at Universal Studios Orlando. After spending the past 13 years in Florida, Hall was laid off due to COVID-19. She was offered a job with WhoaZone, and found out that one of the locations would be right here in her hometown.
Hall said their plan is to have an opening day on Saturday, June 19, but there's a lot of work left to do. As recently as yesterday, divers were spotted down off of East Beach inspecting the apparatus that will keep the inflatables stable. WhoaZone's inflatables are scheduled to start arriving at the scene as soon as tomorrow and installation will begin on Monday.
There is one additional change: the prices. They will be slightly less expensive. In 2019, the price of admission was $20 for 45 minutes of play that followed a 15-minute Safety Orientation and Rules of Conduct Review.
This season, Monday through Thursday, will be $23 for an hour and Friday through Sunday will be $25 an hour.
There is a fee to park that goes to the city.
Your Complete Guide to Outdoor Dining on the SouthCoast in 2021
We compiled a list of all of the restaurants on the SouthCoast that offer outdoor dining. That's right. We did all the legwork for you. Now all you have to do is pick one and call to make that reservation so you can dine al fresco tonight.
Ultimate SouthCoast Playground Guide 2021
The Ultimate SouthCoast Playground Guide for 2021 features 48 public playgrounds throughout Southeastern Massachusetts and Rhode Island.