Devastated By The Celtics Loss, The Portland Press Herald Forgets About The Back Page Of The Sports Section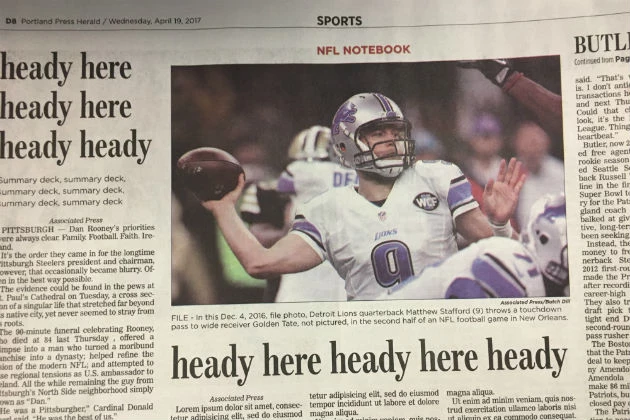 One of the great parts about being human is that we all make mistakes. That even includes our terrific and reliable media friends at the Portland Press Herald. We don't know for sure, but we're going to assume, that the Boston Celtics absurdly bad loss last night left the editors of the sports section in bad spirits. And when it came time to send off the section to print, that back page may have just been forgotten. Again, it could happen to anyone.
As we found out in a terrific exchange on Twitter, the Press Herald is totally ok with admitting when mistakes are made.
@green_i_girl Yeah, we just saw that in the office here and banged our collective heads on our desks.

— Portland PressHerald (@PressHerald) April 19, 2017
We appreciate all the fine reporting the Press Herald does for Maine and of course the city of Portland but pardon us if "here, heady heady, here, heady heady" isn't a thing around our office today. We're laughing with you today…because we all make mistakes.