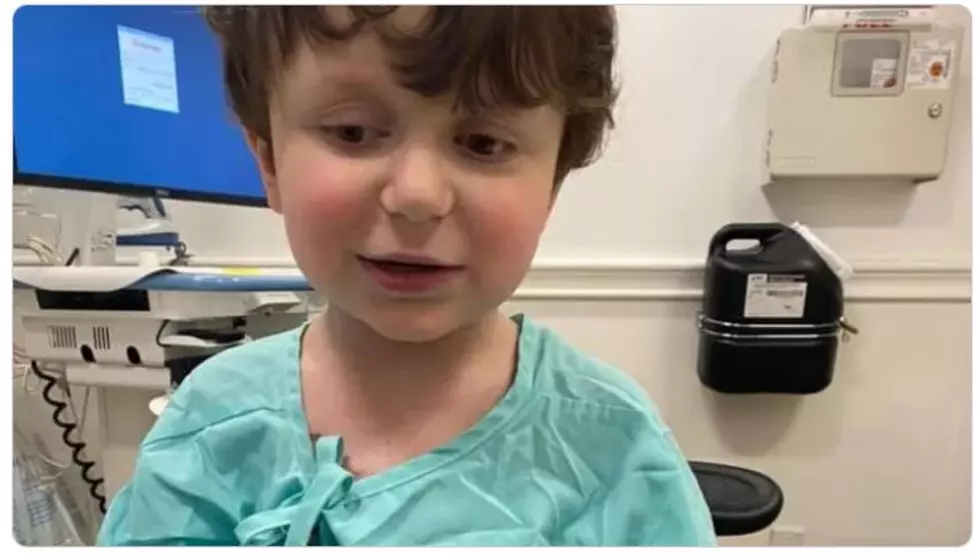 Bootbay's Jameson is Home After Fighting a Rare Cancer in Hospital for Nearly 80 Days
GoFundMe
This little guy is a warrior.
Jameson Brooks in Boothbay was diagnosed at 4 months with a rare brain and spinal cancer called Pilomyxoid Astrocytoma. Since he has had nearly 30 surgeries so far. He was blinded after his first biopsy at 6 months old. He has had stomach issues making him lose weight. He was put on a special diet (using a feeding tube) and they then had issues with not being able to get the food through their medical supplier.
Jameson the Warrior was under the care of a neurologist, cardiologist, oncologist, urologist, gastroenterologist, and endocrinologist.
That's a lot. But, there is some great news. HE IS NOW HOME! Little Jameson just got home. His mom Kristen said on Facebook,
Day 76 in The Barbara Bush Children's Hospital at Maine Medical Center. I remember thinking at one point when did this become normal for us again? In a sense, many things have stayed the same. Jameson has once again shown neurologists, oncologists, neurosurgeons, endocrinologists, and everyone in between that he is a warrior. Tell him he can't and he will do it twice and faster than expected. I wish to be half as strong as he is. It's kind of surreal that today is the day we break free from these four tiny little walls with that, comes fear anxieties, and acclimation to "regular " life. I know we got this. So here's to going home.
Here's how you can help celebrate Jameson's long hard fight. There will be a car parade in his honor meeting at Knickercane Island Park in Boothbay at 5 pm on Saturday, September 10. They want to let Jameson know how Maine is so proud of him, and how we support him! If you happen to own a dump truck, fire engine, cop car, or anything cool - BONUS!
If you can't make it to the parade, but would like to support this family and Jameson's long road ahead - please consider a donation to the GoFundMe set up to help Jameson's family ease some of the financial burdens.
13 Stores You Shopped At In Maine But Your Kids Have Never Heard Of
Any person who grew up in the 70's, 80's or 90's knows that shopping malls were everything but as times changes, so do stores. Here's a list of places people in Maine shopped at during those decades that your kids have probably never heard of.