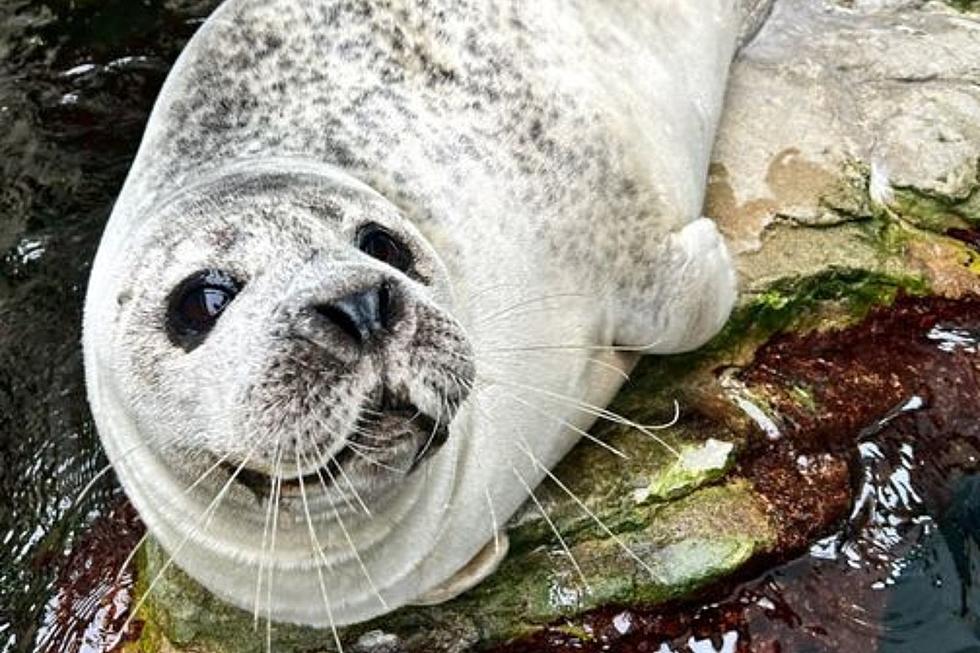 Make Art With Seals, New England Aquarium Offers Unique Experience for Guests
New England Aquarium via Facebook
The New England Aquarium in Boston, Massachusetts, always something interesting for you to witness. Whether it is a Q&A at the top of the Giant Ocean Tank (where the sharks, barracudas, turtles, and more swim around) or a live animal presentation, where you can get close to some of the animals such as an anacondas or a horseshoe crab, you will be able to learn a lot of information about the animals at the aquarium without having to look it up or read the signs.
Of course, there are plenty of other fun things for you to enjoy at the New England Aquarium, such as the live touch tanks, where you actually get to touch and/or hold some of the animals that live in the water.
Now, I actually used to volunteer at the New England Aquarium when I was in high school, and it was an amazing experience. What I really loved doing though was the live animal presentations.
I worked on presentations for jelly fish, anaconda, horseshoe crab, and even the Northern Fur Seals, but unfortunately the aquarium did not offer this unique experience when I worked there.
What unique experience you ask? Well, they are allowing you to get up close and personal with some of the Atlantic Harbor Seals.
According to the New England Aquarium, for an extra fee, visitors of the aquarium are able to book two different experiences with the Atlantic Harbor Seals.
Imagine being up close and personal with the seals, well, you can with the new "Meet and Greet" session that the aquarium is running. The session lasts for 30 minutes for a maximum of four guests aged 7 or older (children between the ages of 7 and 10 must be accompanied by a paid adult).
The New England Aquarium states that the "Meet and Greet" experience occurs daily at 3:15 pm and it costs $150 for non-members and $135 for members.
I will admit, though it would be fun to have a meet and greet with the seals, the New England Aquarium's second offering is so much cooler.
According to the New England Aquarium, you could join some of the aquarium's trainers and go inside the seal exhibit to not only visit the seals, but also see them make art, and yes, you would receive a one-of-a-kind painting made by an Atlantic Harbor Seal.
Just like the "Meet and Greet" experience, this too has a maximum of four guests, same age restrictions, is 30 minutes long, and occurs daily at 3:15 pm.
The only difference is the price and that the group will receive one 11"X14" painting (so no, not everyone in the group will walk away with their own painting).
As mentioned above, there is a price difference if you want to do art with the seals. It will cost non-members $225 and members $200.
It is important to note that if you are not a member of the New England Aquarium, that both of these experiences do not include admission to the aquarium and that will have to be purchased along with the experiences.
You can find more information and how to book these unique experiences here.
Family Friendly Day Trips From Portland, Maine Your Kids Will Love
Looking for something fun to do with the family but want to stretch your legs outside of Maine for the day or weekend? Here's a list of fun spots for you and your family to enjoy that could easily be done as a long day trip or a quick weekend away. Everything on this list is within x hours of Portland.
For reference, when putting in Portland, Maine on Google Maps, it places the street view guy at Portland Town Hall. Depart time is being set at 8:00 am on a Saturday in June to account for traffic.
Did your favorite make the list? Anywhere new you plan to check out?
24 Experiences That Make Summer in Southern Maine Great
Summer in Southern Maine is always fantastic. However, these 24 experiences make it even better.