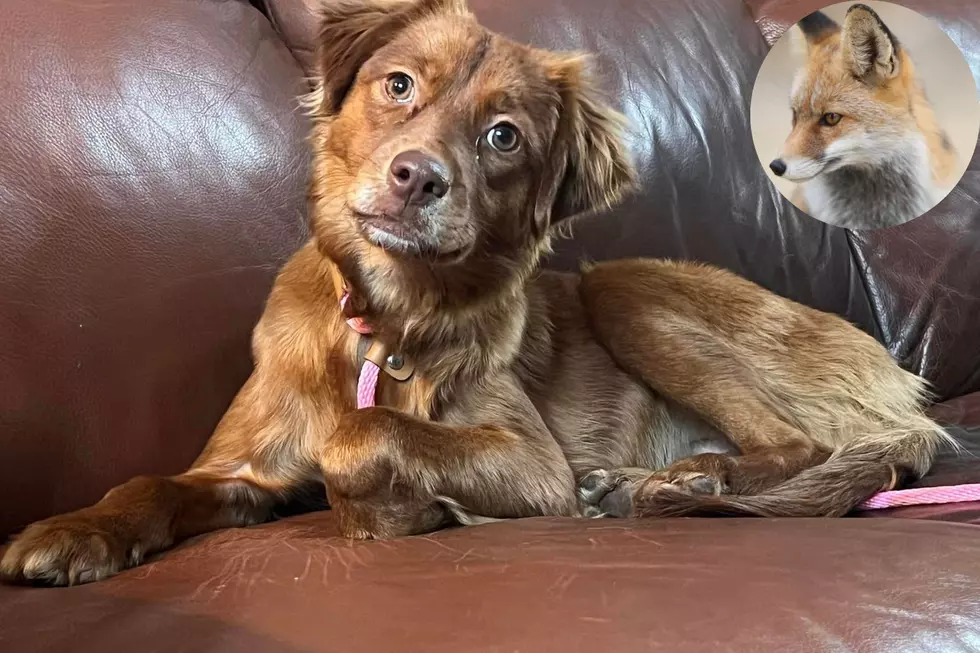 Poor Dog Lost in New Hampshire for Days Makes a Fox Friend Like in a Disney Movie
Granite State Dog Recovery via Facebook
Cute little brown puppy Saban was in a world she didn't know.
Saban, used to warm weather and the tropics, was just sent up to Massachusetts from Puerto Rico.  In fact, the pup was adopted that day, picked up from the animal shelter, and driven to visit family members in Manchester, New Hampshire.  She barely had time to acquaint herself with the cooler temps of New England.
Then an unfortunate incident happened.
As the family was taking Saban out of her crate, she was so scared that she rolled and "took off running like a flash of lightning", according to the Granite State Dog Recovery Facebook page.  Her leash was still attached to her as she bolted.
The family tried to find her, but with no luck. They went back home to Maine, 3 hours away, and hoped for the best.  Posters went up, and 16 long days went by without a trace of the puppy.
Granite State Dog Recovery went to work combing the area and asking for help in the search for Saban.  Imagine a scared and lonely puppy trying to survive amidst traffic lights, cars and buses, train tracks, the big city of Manchester, and unfamiliar wooded areas.
Manchester Animal Controls Officers John and Kayla also were involved in the search.
Businesses got into it too, and luckily Heather of Manchester NH Massage spotted what looked like a small dog and a fox befriending each other on her business video cam at 3am.  She reported it to GSDR, and they decided to set a trap for Saban.
Within an hour, Saban came around to the cage, and after a bit of waiting, went into it to get some food.  The cage door came down, and Saban was finally safe in the hands of GSDR.
The team brought her back to their shelter in Hooksett, NH, and she eventually came out of the cage, grabbed a toy, hopped up on the couch, and gave kisses.
The new owner was excited to get her new pup back, and received a proper fitting collar and leash, name tag, new kennel, and instructions on how to keep her safe.
As for the fox and the hound (or mixed breed pup), they're not likely to meet again if all goes well. What an adventure for Saban's first days in America, which fortunately had a happy ending.
14 New Hampshire-Inspired Dog Names
If you are looking to add a new four-legged friend to your family and want to give them a name that reps some 603 pride, here are some awesome New Hampshire-inspired dog names.
Wise Words for Out-of-Staters Moving to New Hampshire This Winter
What would you say to out-of-staters moving to New Hampshire during or before the winter?