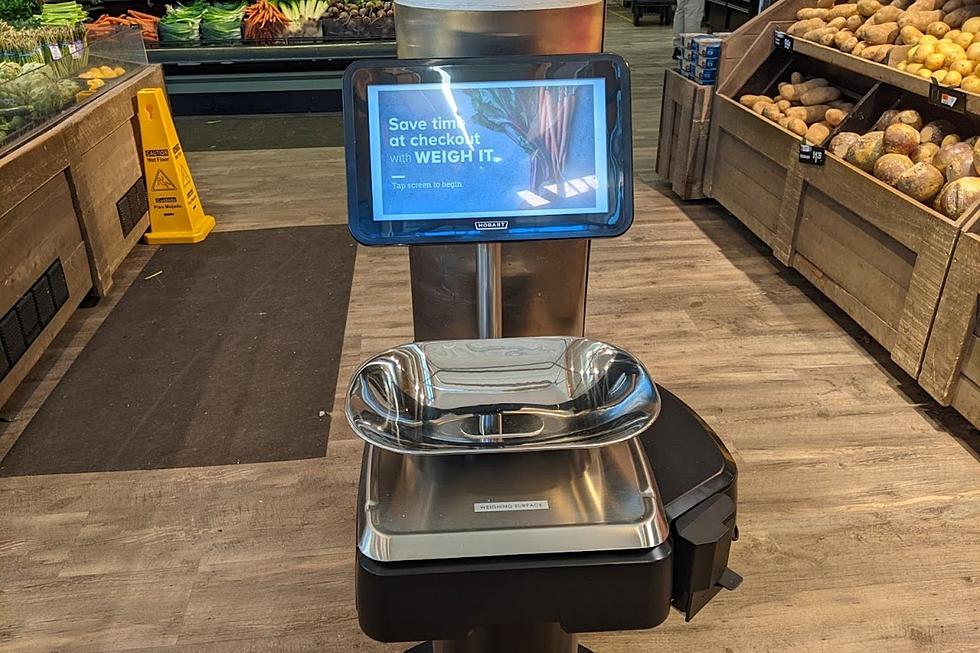 These New Scales at the Portland, Maine Hannaford Do More Than Weigh Your Produce
Townsquare Media - Jeff Parsons
There's something new at Hannaford that got my attention this week and when I realized what it did, it actually made my shopping a lot easier.
The Forest Avenue Hannaford has added a half dozen or so scales to the produce department. These aren't the old-style scales that have been at Hannaford for decades with the hanging basket and arrows. These are totally 21st-century designs with features the old scales could never offer.
These scales perform the same task of weighing your produce. However, that's all the old scales could do. They simply told you how much your produce weighs leaving it up to you to do the math to figure out how much that bunch of bananas is going to cost you. These scales know the price per pound of all produce and will calculate the cost.
Just place your item on the scale, touch an icon for your item or search for it with the on-screen keyboard and it displays the price. Pretty neat! But, it doesn't stop there.
In the upper right corner of the screen, you'll see a printer icon. Tap that and the scale will print out a label with a price and a barcode, just like the ones you get at the deli and meat departments. Stick that on your produce and now that bunch of bananas or whatever produce you're buying can be scanned at the register.
It's not new technology by any means. Hannaford has just basically put the scale behind the counter in the deli department out in the produce department for customers to use.
Where this really comes in handy is when you're using the self-checkout registers. How many times have you been using a self-checkout and you weigh your produce but struggle to find what it is you actually have on the screen? If you're like me, I hate to keep people in line waiting, so this saves all that trouble.
We can assume that these will be rolled out to other Hannaford Supermarkets as time goes on, especially based on how many people were using them the day I first saw them. These new scales seem like a hit.
10 Apps Anyone Who Lives, Works, Plays, or Vacations in Portland, Maine Needs To Download ASAP
In addition to this station app where you can get exclusive contests, stories you care about and listen live, the rest of these apps should fill your needs while in and around Portland.
Maine's 16 Counties Ranked By How Much Money People Make
Here's the list of every county in Maine ranked by median household income from lowest to highest.
25 True Crime Locations: What Do They Look Like Today?
Below, find out where 25 of the most infamous crimes in history took place — and what the locations are used for today. (If they've been left standing.)