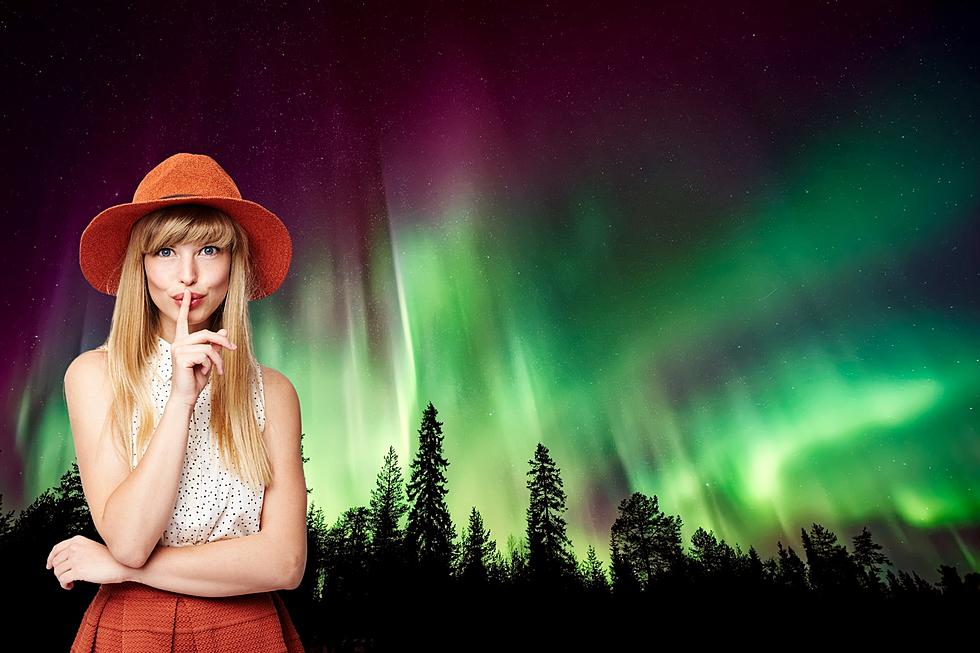 Here Are the (Not So) Secret Spots in Maine to Watch the Northern Lights
Canva
Okay, we all know it's been a rainy summer. When the surprise arrival of the Northern Lights, how lucky are we to finally get a beautiful sunny day for viewing?
However, rain talk aside, Maine is one of the best places in the U.S. to catch the rare spectacle we're about to witness in the sky.
Now, you want to make sure you're at the highest point on land that you can possibly manage in your area to give you the best view. If you need some suggestions where to plan your light-viewing adventures this week, try these:
Aroostook County Wildlife Refuge
Aroostook County isn't very populated with humans and sits on the border of the U.S. and Canada. Less humans equals less "light pollution" which makes this area a great candidate to watch the Northern Lights.
Moosehead Lake
Located in the northwestern area of the state, Moosehead Lake is the largest lake in Maine which means it gives us tons of room for personal viewing spots.
This lake is surrounded by beautiful mountaintops, I mean, truly every time I go, I think to myself how lucky we are to be able to visit such beautiful scenery in our own state.
Not to mention the perfect reflection of the beautiful scenery surrounding it when the water is just calm enough. Imagine seeing the Northern Lights in the sky AND in the reflection of a lake at the same time.
Sugarloaf Mountain
I'm sure you've skied or snowboarded this beautiful mountain located in Carrabassett Valley, but now, if you're looking for a longer adventure, you can ALSO use it for summer activities.
Sugarloaf Mountain is the THIRD highest peak in the state which makes it another absolutely perfect candidate to catch the Northern Lights at a high altitude.
According to The Space Weather Prediction Center, the best time to view this aurora is usually between 10 p.m. and 2 a.m. (local time).
If you're worried about needing some kind of equipment in order to be able to see the lights, don't worry... you won't need anything but your own two eyes to catch the show.
Here are some recommendations to check off your list while you're thinking about how to get the most out of the light show this week:
Pick a spot where there is little light pollution.
Get to a higher elevation if possible.
Check the forecast for signs of clouds or precipitation, which could block your view.
Scan the skies — while northern is in the name, they can appear from all directions.
See the Must-Drive Roads in Every State