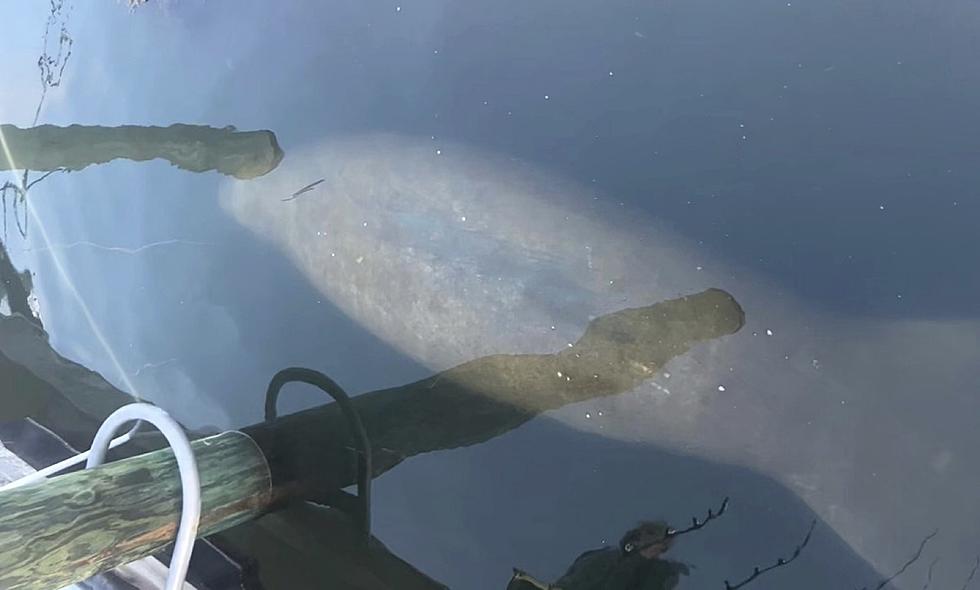 Rare Manatee Sighting Captured Off the Coast of New England
Rhode Island Department of Environmental Management via X.
To quote the Rhode Island Department of Environmental Management, "The ocean is full of surprises." I'd say so, especially after a manatee was spotted in one of the state's ponds.
The Department made the announcement and shared a photo of the animal on X (the Artist Formerly Known as Twitter).
As mentioned by wildlife officials and reported by New England Cable News, the manatee was found in the saltwater Quonochontaug Pond, a coastal lagoon that can be found in Westerly and Charlestown. Officials are currently monitoring the manatee.
The creatures can evidently travel hundreds of miles over the course of a year. Still, it's far more common to find manatees off the coast of Florida.
This isn't the first time in recent memory, however, that manatees have been spotted off the coast of New England, with previous sightings occurring in 2006 and 2016. The second instance occurred off the coast of Cape Cod, which recently bore witness to some notable whale activity.
Sightings of this manatee (or others in the area) can be reported to the Mystic Aquarium Animal Rescue Hotline at 860-572-5955 x107.
In a series of posts on X, Environmental Management noted that Manatees are protected by the Endangered Species Act and Marine Mammal Protection Act, and asked the public to keep a safe and appropriate distance.
They added:
"Slowing down + giving marine wildlife space reduces the chances of collisions. Boaters in the area, use caution + be on the lookout. If you see the animal keep a no-wake speed until it is a safe distance from your boat. Please do not attempt to feed or touch the manatee."

 
15 Wacky New England Animal Stories from 2023
Eight Wicked Bizarre Mysteries of Massachusetts