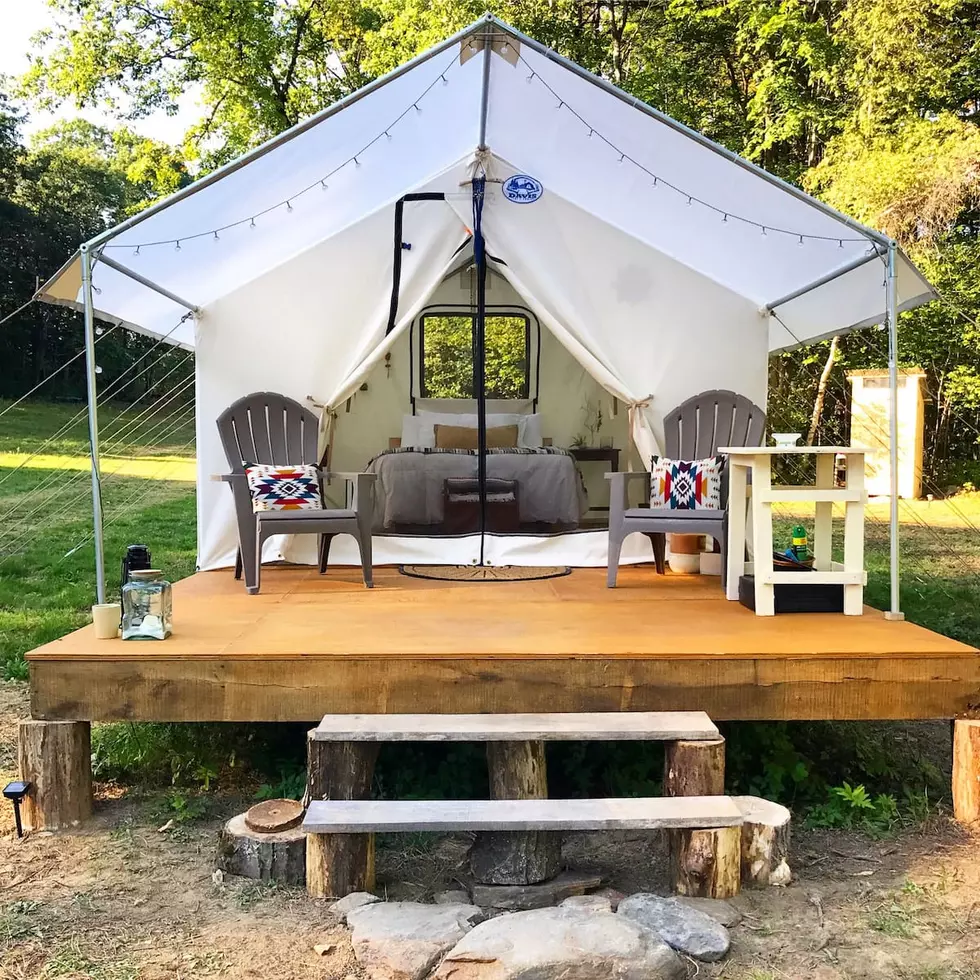 Sleep Under the Stars at This Scenic and Secluded New Hampshire Glampsite
Airbnb
Picture this: you're all snuggled up with your lover, bestie, or even fur baby, sipping coffee as you watch the sun peek over the mountains. That is the kind of slowing down we all deserve in our hectic lives, and the 'Scenic Rural Camp Site -New Glampshire' on Airbnb is the perfect place to unwind!
A website called TripsToDiscover, highlighted this listing as one of the coolest and unique stays in the Granite State. Judging by the pictures, I have to agree! And with a full bed with luxury bedding, an outdoor solar shower, outhouse toilet, picnic table, solar lighting, and a fire pit, you will hardly be roughing it! And that bed looks pretty dang comfy.
Some hearty folks even post up here in the winter during a snowstorm. According to the reviews, the wood stove cranks out heat, and they provide plenty of warm blankets. You can sit under the solar lights on the porch and just watch those flakes fall. Sounds pretty magical, actually.
Let's take a tour, shall we? It's only 12 by 10 feet, so it shouldn't take too long.
Front Porch aka the Chill Zone
Luxurious Sleeping Quarters
S'more Factory
Porcelain Throne
Who doesn't love an outdoor shower?
Alex and Colleen are Superhosts, which means they are some of the best in the business. Their guests have given them five-star ratings in cleanliness, communication, accuracy, and location. Book your stay at the Glampsite by visiting the full listing below!
See the Must-Drive Roads in Every State
KEEP LOOKING: See What 50 of America's Most 'Pupular' Dog Breeds Look Like as Puppies