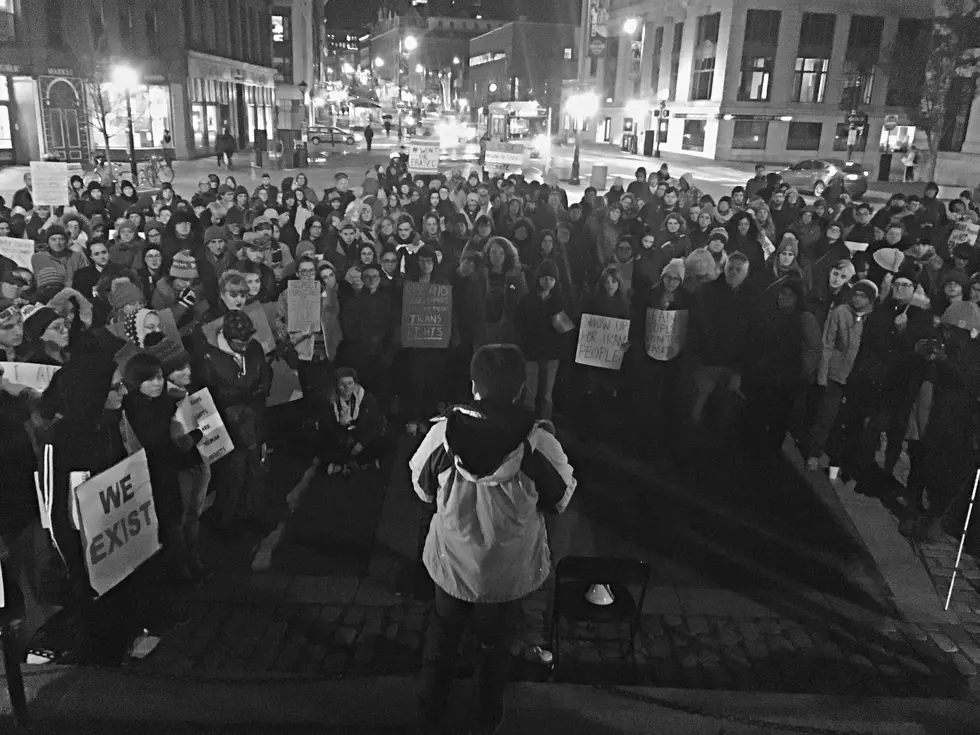 300+ Protest Against Trump's Transgender Policies in Portland
Ollie McGowan
You may have seen the announcement that Trump's administration is pushing policy to define a person's gender as whatever sex is listed on their birth certificate. This would essentially be defining the trans community out of existence, stomping on the progress in recognition, acceptance, and protection that the LGBTQ community has fought so hard to secure over the past few decades.
In protest to the policy, Ollie McGowan of Portland planned to organize members of the trans and LGBT community in Monument Square Wednesday night. In the post, they wrote, "As many of you know the Donald Trump Administration is trying to erase the Transgender community. He is trying to revoke our rights to change our gender and name legally, as well as stop medications and surgeries from being provided to Transgender individuals. The Trump Administration is putting so many lives in danger by doing this, not to mention all the other groups he has already targeted."
The turnout in Monument Square was much larger than McGowan had anticipated, they told the Press Herald. Over 300 people braved the bitter cold to stand together in protest.
"I'm overwhelmed," McGowan said. "I thought 50 people might show up."
While the reason behind the protest was sour, EqualityMaine Program Director Gia Drew reflected on the strength of camaraderie among the large group standing up for trans rights.
"This is so amazing," Drew said to the Press Herald. "I really needed this."