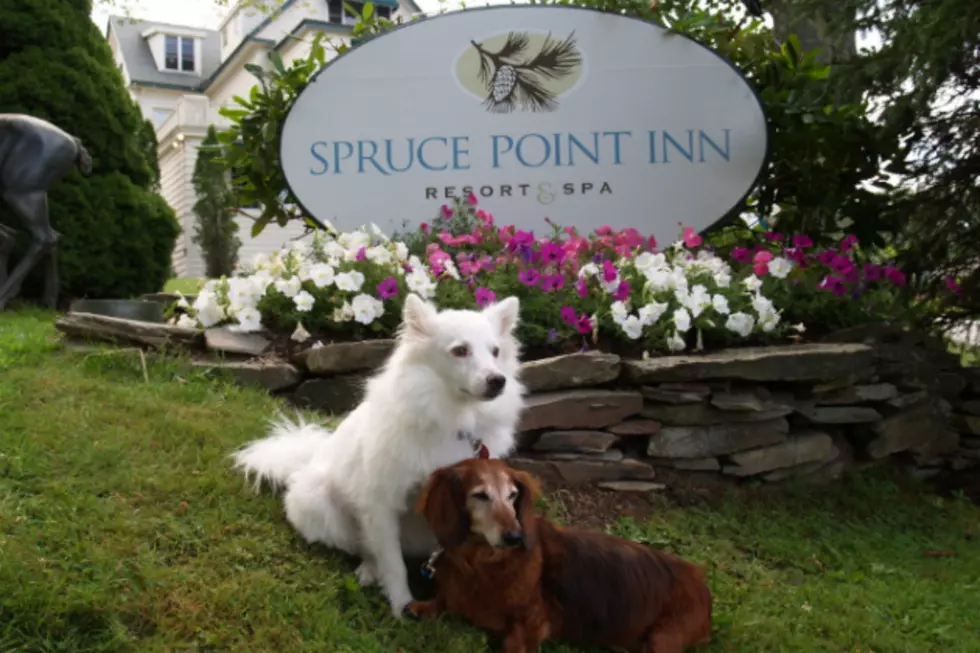 5 Super Dog Friendly Places to Stay in Maine
SprucePointInn.com
Maine is the best place in the world to vacation and staycation. But what about Fido? Bring him along! Here are 5 great places in Maine that love dogs!
SPRUCE POINT INN
Spruce Point Inn in Boothbay Harbor is a great place! I have had the pleasure of staying here and bringing Casco.
They even have a restaurant, Bogies, that is named after the innkeeper's (Joe Paolillo) dog.
They offer dog beds, dog bowls and treats. Too bad Casco did not experience any of it, because she wasn't quite ready and barked the whole time. We had to send her to 'doggie day care'.
COLONY HOTEL
This Colony Hotel is all about the dog! It's known for how friendly and dog centered they are! It's in Kennebunkport, so it already has a gorgeous setting. We're talking super dog friendly includgin a private hotel beach, dog blankets, water stations, outdoor shower and if you need - dog sitters on request. (some dog stuff isn't free).
INN BY THE SEA
I love The Inn by the Sea in Cape Elizabeth. I've been to a wedding, put my Aunt and Uncle up here a million years ago and have eaten at the restaurant a gazillion times. That was all before I had a dog - who knew they were also super dog friendly! And they were one of the first to take dogs!  They go all out too! Dogs can eat on a seaside deck, there are nearby trails and dog-friendly beaches. They have water bowls, beach towels and blankets. Woof. But they also have a turn down service with a dog cookies, a gourmet dog menu, dog massages (what??) and a dog sitter if you need one.
HARRASEEKET INN
The Harraseeket Inn in Freeport is another great Inn I've been to, but have never stayed. I have been to their buffet so often, they should name a booth after me. On top of the amazing food, they are dog friendly too!  They have dog beds, dog bowls and clean-up supplies. You do have to pay a doggie fee.
SEBASCO HARBOR RESORT
It's funny, but there is a theme starting. I've only had the pleasure of staying at one of the dog friendly places I've listed...BUT I've had a drink and a meal at all of them...including the Sebasco Harbor Resort in Phippsburg. They have 9 cottages you can stay with your dog, eat at Ledges Pub patio and Reid State Park is close by. I think Sebasco Harbor Resort offers the greatest dog treat - a VIP dog welcome gift with treats. They also have a dog bed, dog place mat and bowls, clean-up supplies and a resort dog map. And yes, you do need to pay a dog fee.