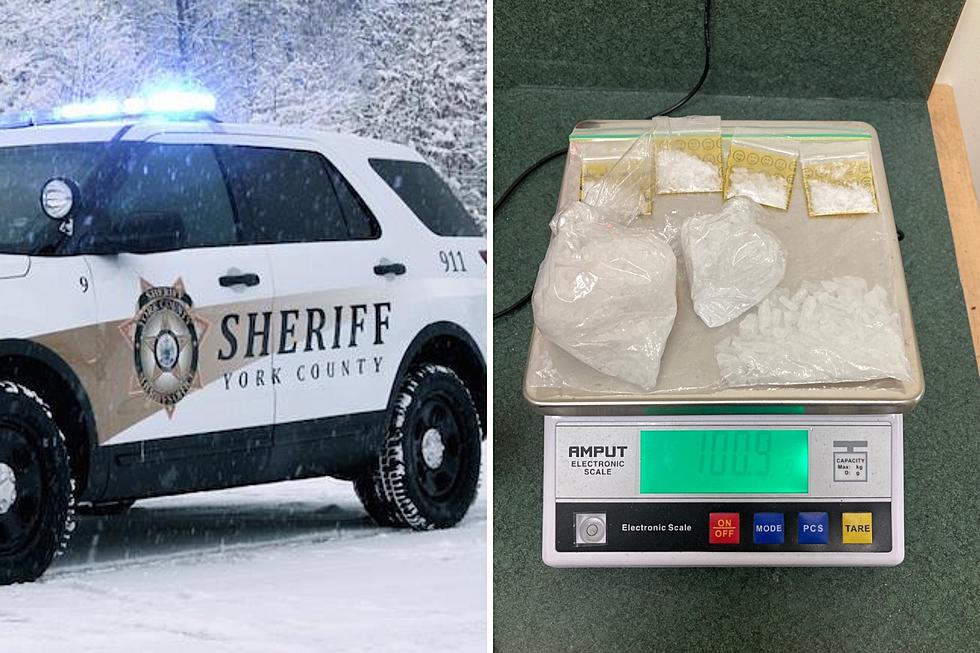 Maine Man Accused of Leading Police on Chase With 100 Grams of Meth in Stolen Vehicle
York County Sheriff's Office - Maine via Facebook
A stolen vehicle. A high-speed chase. 100 grams of meth. A fake identity.
These were just a few of the things that police highlighted in a Facebook post about an incident on Thursday, March 16, that began with a traffic stop and later ended with the arrest of a Maine man.
According to a Facebook post from the York County Sheriff's Office, Juan Pablo Zamarripa, 41, of Sanford was arrested on numerous charges, including aggravated trafficking of scheduled drugs and eluding a police officer.
Police said that York County Deputy Cody Frazier chased after a vehicle that sped away from an initial traffic stop only to find it crashed in some trees with no driver or anyone around.
Inside the vehicle was 100.9 grams of methamphetamine, according to police.
York County Sheriff's Office stated that while a K9 tried and failed to track the suspect, Frazier, accompanied by Sergeant Gregg Sevigny, came across a man three hours later covered in dirt and mud and believed to be the person they were looking for.
The man allegedly gave them a false name and birthday, but police said they were able to correctly identify him as Zamarripa.
York County Sheriff's Office said he was arrested and charged with "Aggravated Trafficking of Scheduled Drugs - Class A (100.9 grams of meth), Eluding an Officer - Class C, and his no bail warrant. He will also be indicted on misdemeanor charges of Driving to Endanger, Motor Vehicle Speeding 30+ MPH over speed limit, Operating after Habitual Offender Revocation, Fail to Give Correct Name, Address or DOB, and Unlawful Possession of Scheduled Drug (.5 grams of crack cocaine)."
Police noted that it wasn't until later that the vehicle involved in the incident was reported stolen.
Here's the Full List of Missing Persons Cases in Maine
There are 34 people currently listed
as missing here in Maine by the state police as of July 2022. If you recognize or have any information on the people listed here, please contact the police.