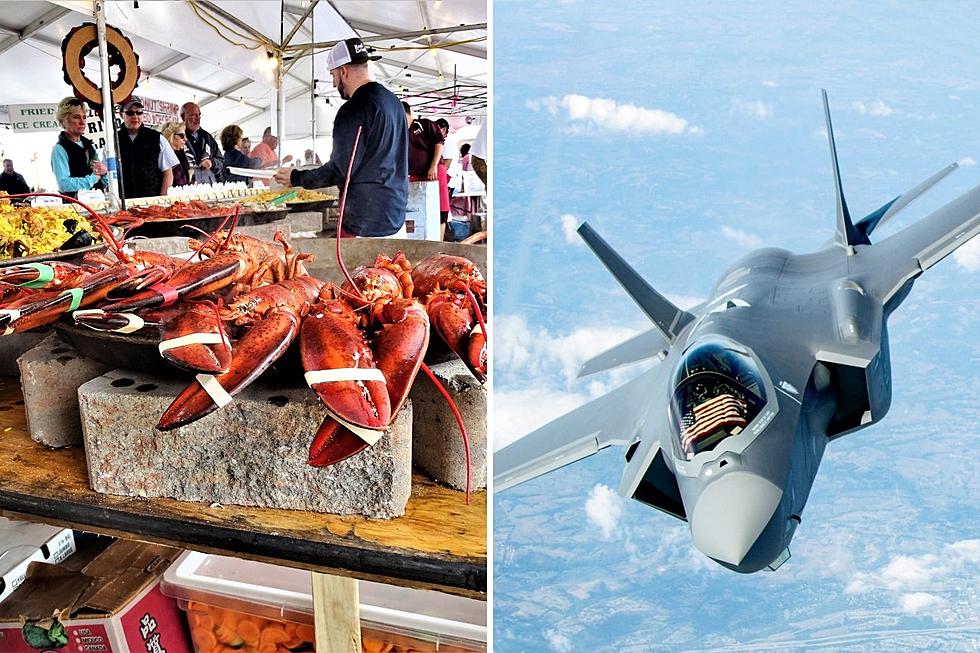 Nothing but Sunshine on Seacoast for Air Show and Seafood Festival
Lobster at the Hampton Seafood Festival (Kimberley Haas, Townsquare Media) , Thunderbirds (Thunder Over NH Air Show)
The weather will be perfect on the Seacoast for the Thunder Over New Hampshire and the annual Hampton Beach Seafood Festival this weekend.
National Weather Service meteorologist Sarah Chunberg expects sunshine both Saturday and Sunday although a couple of clouds might pop up for the end of the weekend.
"They should be pretty nice days. Saturday will be in the mid-70s and Sunday high 70s to low 80s," Chunberg said.
A High Surf Advisory is expected to be in place all weekend as Hurricane Larry passes well to the east with 90 mph winds that will churn up the ocean with 10 foot waves. Swimmers are advised to stay out of the water.
"There could be coastal flooding during high tide and strong rip currents. Even though it's going to be a sunny day the ocean's not going to be the best," Chunberg said.
Thunder Over New Hampshire Air Show
The U.S. Air Force Thunderbirds return to the Seacoast during the Thunder Over New Hampshire Air Show at the Portsmouth International Airport at Pease on Saturday and Sunday.
Parking passes for the show had to be reserved on the show's website in advance and are all gone for Saturday, according to spokesman Herb Gillen, who expects passes for Sunday to be all gone by Friday.
One of the goals of the show's organizers was to solve the past traffic issues associated with large numbers of motorists trying to exit the shows at Pease in 2010 and 2012. A nationally known parking and traffic consultant was brought in to solve the problem by separating pedestrians and traffic.
"The biggest complaint was traffic and parking. It just took hours in some cases for people to get off the Tradeport. We hired this company and the first thing they said was that you've got to limit the number of vehicles because you're going to have the same issues," Gillen said.
Passes are not available at the gate and anyone arriving without one will be turned away.
About 35,000 people are expected to be present each day, down considerably from the estimated 100,000 from the last show although organizers are dubious about that figure.
"There's still going to be long traffic getting out but it will be easier than it would be otherwise and that's our goal," Gillen said.
Portsmouth police have warned that parking, standing or idling vehicles (including mopeds, scooters and motorcycles) are prohibited for the entire length of Grafton Drive from Route 33 to Corporate Drive, along Route 33 and Route 95 in both directions.  The viewing area typically open to vehicles along the fence line on Grafton Drive will be closed, police said.
Vehicles violating the ban will be towed.
"It is widely known there are many large parking lots on the Pease Tradeport. Please keep in mind these parking lots belong to private businesses. Parking in any of these lots is not permitted unless express approval from the business is granted. Private businesses reserve the right to tow any vehicles from their parking lots," police said.
Gillen said organizers are mindful of the pandemic and the potential for the event to become a COVID-19 "super spreader" event and following state
"The fact we are outdoors and have a ramp that is approximately 100 acres there's plenty of room to spread out if you need to. We're encouraging people if they want to  wear a mask but it's outdoors, it's in the sunshine, there's lots of space," Gillen said
Hampton Beach Seafood Festival
The Hampton Beach Seafood Festival also takes place Friday, Saturday and Sunday along Ocean Boulevard which includes a 9/11 ceremony on the main stage Saturday.
"We have great weather, the tents are a little different this year so people can spread out a little more so it's exciting. Most of the hotels are full I'd say. Overall, everything looks good," Hampton Village Precinct Chairman Chuck Rage told Seacoast Current.
Rage said the best way to get into the festival and enjoy the 80+ vendors and crafters, 15 bands and the fireworks on Saturday night is to first follow the free parking signs to one of several lots that will be utilized.
"They shuttle you in then you don't have to sit in traffic. It's free parking and a free shuttle which is always the best thing," Rage said adding that masks must be worn on the bus per federal guidelines.
The biggest attraction is the over 50 Seacoast restaurants serving up their specialties but Rage wouldn't say which is his favorite.
"I'll get in trouble," Rage said.
A wristband for the festival is $10 per day or $30 for the weekend per person and can be purchased by cash or check at the gates. Sales benefit the Knights of Columbus, ROTC and the Chamber of Commerce.
Contact reporter Dan Alexander at Dan.Alexander@townsquaremedia.com or via Twitter @DanAlexanderNH
LOOK: What major laws were passed the year you were born?
Data for this list was acquired from trusted online sources and news outlets. Read on to discover what major law was passed the year you were born and learn its name, the vote count (where relevant), and its impact and significance.