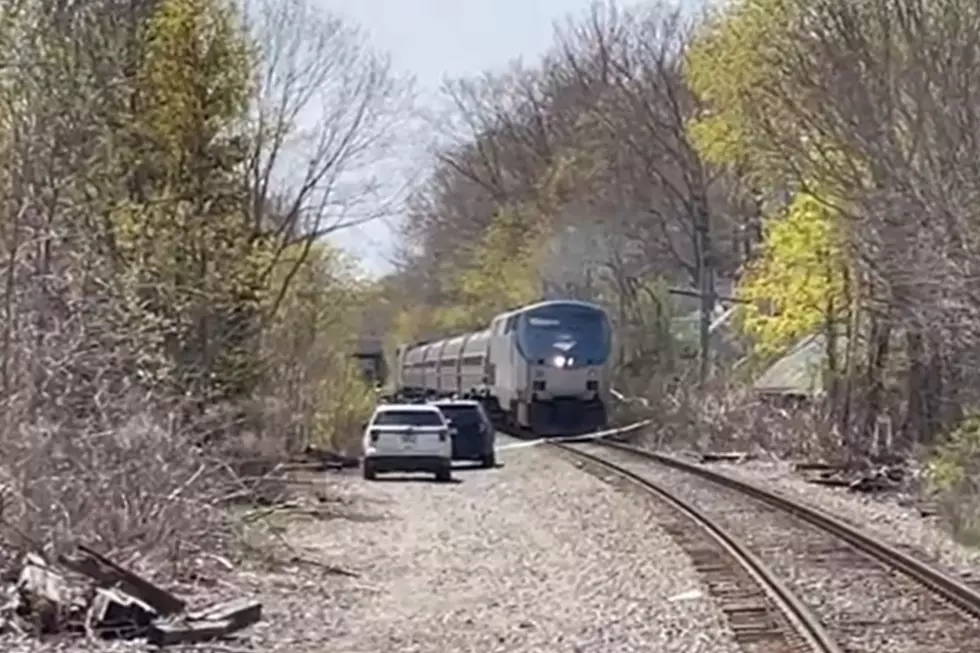 Police Identify Pair Struck by Amtrak Train in Biddeford, Maine
Amtrak train that struck two people near Saco 5/8/22 (Owen Kingsley via Twitter @OwenWGME)
The individuals who were fatally struck by an Amtrak Downeaster train on Sunday were homeless half-siblings, according to Biddeford Police Chief Roger Beaupre.
The train with 81 passengers and crew was headed from Boston to Brunswick struck when it struck two people who were lying on the tracks around 11 a.m. just before Main Street in Biddeford. Security video showed the two sitting up and hugging each other as they were about to be hit.
The individuals on the track were identified Wednesday as Richard P. Martello, 24, and Shawnia Maffiola, 23. Their death was ruled a suicide, according to Beaupre.
Beaupre said that relatives in Massachusetts and Indiana were difficult to reach in order to notify them about the pair's deaths.
According to the Facebook page of Shawnia Marie-Maffiola, she attended Scarborough High School and was engaged to Martello.
Martello's page, which uses the name of basketball star Scotty Pippen, said he is from Boston and a graduate of Triton Regional High School in Byfield.
If you feel you or someone you know may be in crisis, call the National Suicide Prevention Hotline, 1-800-273-TALK, the Portsmouth Regional Hospital crisis-suicide hotline at 603-433-5370 or the Maine Crisis Hotline at 1-888-568-1112
Contact reporter Dan Alexander at Dan.Alexander@townsquaremedia.com or via Twitter @DanAlexanderNH
Trending Stories for Seacoast Current (May 2-8, 2022)