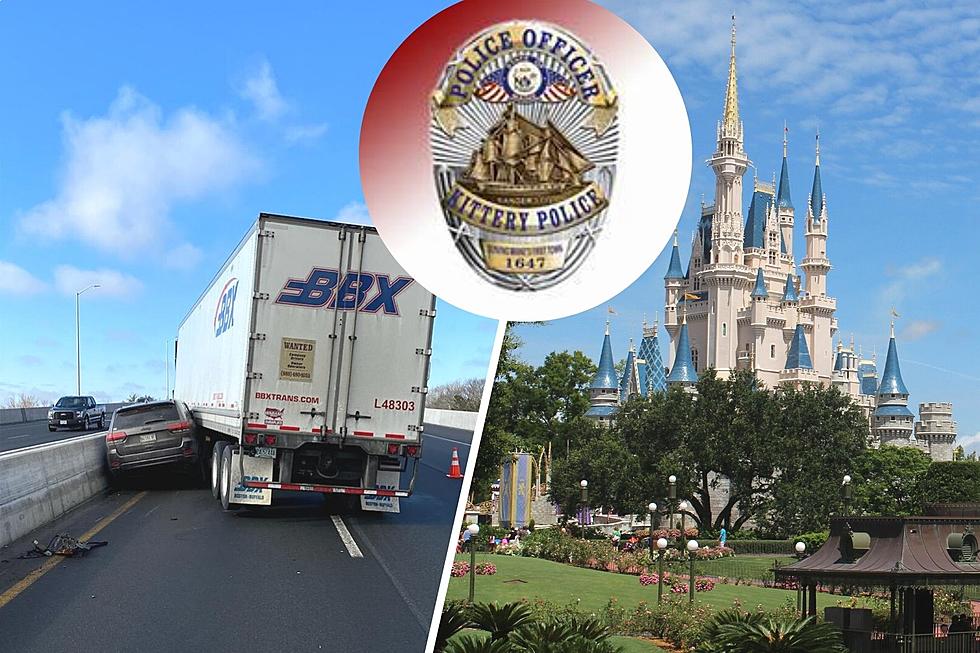 'You've Got a Friend in Me" – Kittery, ME Cops Save Disney Trip
Jeep pinned by a tractor trailer on Route 95 3/16/22 (Maine State Police), Disney World castle (Townsquare Media)
A family vacation to Disney World got off to a very bad start, but had a happy ending thanks to members of the Kittery Police Department.
The Mediouni family from Cumberland, Maine was approaching the Piscataqua River Bridge on Route 95 headed for Logan International Airport in Boston on March 16 when a tractor trailer drifted into the right shoulder and struck a Maine State Police trooper's SUV.
The truck veered back into the travel lanes and wound up in the far left lane, striking and pinning a Jeep Cherokee with the Mediouni family inside against the concrete barrier in the median.
"Pretty much the entire staff on duty at the Kittery Police Department responded to the accident upon hearing there was a family involved, and also a state trooper to see if we could lend a hand," Kittery Police Lt. John Desjardins told Seacoast Current. "We were absolutely amazed no one was seriously injured when we looked at the wreckage of both the State Police unit and Jeep the family was in."
Kittery Police would be able to lend an important hand just not in the way that they thought, after Det. Ryan Sanford overheard a conversation the family was having as they stood on the shoulder of Route 95 with their luggage, not sure what was going to happen next.
"He told me he overheard the family talking, and the boy said 'I guess we're not going to get to go to Disney World,'" Desjardin said. "He approached me and said 'wouldn't it be cool if we could get them to the airport on time, and the little boys could go to Disney after being involved in a horrific accident."
An Opportunity to Help
Desjardin said the department immediately went into action to make the trip to Logan happen. Det. Brian Cummer volunteered to drive the family, while Desjardin gave up his vehicle since it was the biggest and could accommodate the group.
Administrative assistant Dani Lindman, a certified car seat technician, was at the station and swapped out the family's car seat into Desjardin's vehicle because it was rendered useless by the impact of the crash.
"Thankfully, they left themselves enough time and they had priority security screening, so when we got them there they had enough time to get through and make their flight," Desjardin said.
But the best part of the trip for the boys age 3 and 6 may not have happened in Florida.
"As they got out of the car, they asked Detective Kummer to run the siren, which he did," Desjardin said.
Desjardin said that the crash also offered a chance for his officers to make a personal impact on someone.
"Any cop these days who had the same opportunity would have done the same thing. We were fortunate to have the opportunity to be in the same position to help them. We're glad to do it," Desjardin said.
Contact reporter Dan Alexander at Dan.Alexander@townsquaremedia.com or via Twitter @DanAlexanderNH
20 NH & MA Locations Featured on Ghost Hunting TV Shows