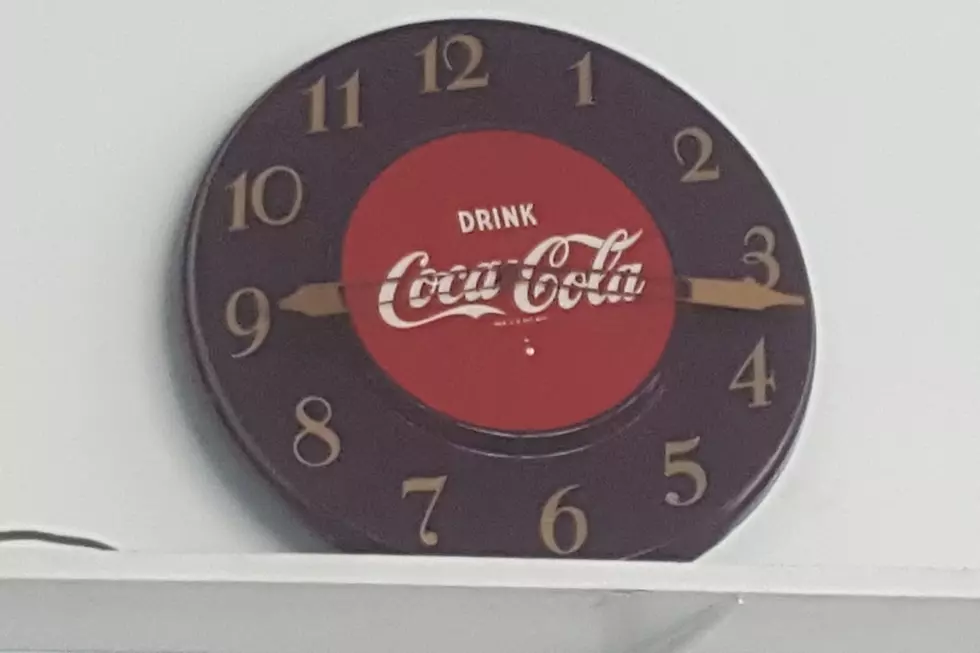 Seeing This Clock Brought Back Memories of Growing Up in South Paris, Maine
Jeff Parsons - Townsquare Media
Do you ever see something and you're instantly transported back in time to a place or event you remember vividly? It's an awesome feeling and it happened to me in Dallas, Texas at a pinball tournament.
A clock just like this one hung on the wall behind the counter for years at Minnie's Food Shop in Market Square in South Paris where I grew up.
In 1960, Minnie Stone opened her restaurant where she served home-cooked specials including her famous BBQ chicken. The restaurant had tables lined against the walls all with remote jukeboxes that you could drop a quarter in to play your favorite song on the big jukebox just inside the door. There was a lunch counter with stools you could sit at that was lined with buckets of penny candy.
Minnie's was the place where teenagers hung out in the '60s and '70s. The jukebox played songs that never seemed to change through the years, she served milkshakes and ice cream floats, and in the back corner, there was always a pinball machine. The one that was there the longest was Flash Gordon, based on the cheesy 1980 movie.
Minnie was like a grandmother to me. Every time we went in with my mother she always insisted we don't pay for our meals. My mom still paid though, even when Minnie refused, by tucking cash under a plate or one of the penny candy jars.
Minnie always gave me quarters for the pinball machine. Ever since I was old enough to stand on a chair to see the flippers, I've played pinball.
As I got older I would ride my bike to Minnie's on my own to play and I would always keep an eye on that clock that hung overhead behind the counter to know when it was time to go home. I'd come with my own quarters, but Minnie always gave me more.
Sadly, Minnie died in 2002, and shortly thereafter, her restaurant burned to the ground and all that remains today is the sign with the old Pepsi logo reading "Minnie's Homecooked Specials."
That clock brought back all those memories and I saw it for sale in the billiards and game room in Texas where I was playing pinball. It was perfect. I kind of wish I had bought it.
30 "Under-the-Radar" Restaurants in Maine
Thanks to our great listeners we were able to compile a list of many of Maine's great "under-the-radar" restaurants, cafes, pubs and bakeries.
These great spots can be found across the state, and waiting for you to give them a try.
How many have you been to?
Live in a Modern Day $60 Million New England Castle on 75 Acres with a Moat