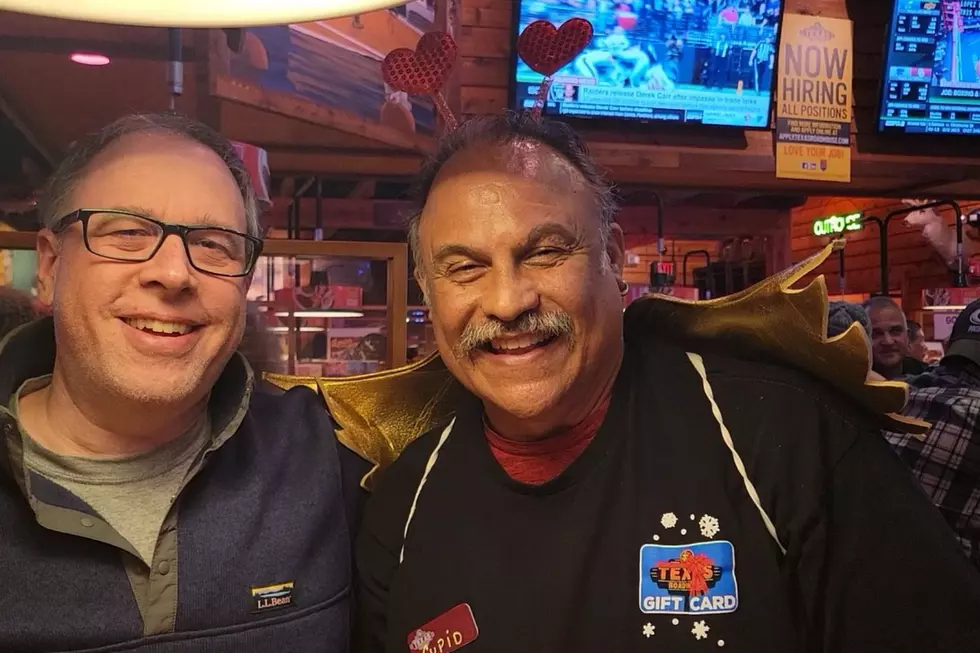 Meet Jose, the Server Dressed as Cupid Who Made Our Valentine's Day
Jeff Parsons - Townsquare Media
Inspired by Lori's Uncle Nicky who said he was going out for a steak with Aunt Barb for Valentine's Day, I suggested the same to my girlfriend Michele, and she was all for it. We went to our favorite place for steak and judging by the crowds, half of Southern Maine's favorite, Texas Roadhouse.
All the staff at Texas Roadhouse is great, but we had a server that had us laughing all night by the name of Jose. I noticed Jose as we sat down walking from table to table and doing his thing because he was hard not to notice.
Jose was dressed in a pink tutu, and wings with a giant heart attached to them, wearing two hearts on his head and a nametag that read "CUPID." Anyone that can dress like that at work on Valentine's Day has to have a great sense of humor, and when he came over to our table, we knew we were in for a fun night.
Jose had us laughing nearly to tears as he would touch my shoulder and say things like "I've got the Midas touch!" To which I replied, "Yeah, but I didn't turn to gold."
We asked him what made him decide to dress up as cupid and he said that he also works at the Portland VA Clinic on Commerical Street in Portland and he wore it to work that day. I imagine he put just as many smiles on people's faces there as he did at Texas Roadhouse.
He asked his boss at Texas Roadhouse if it would be okay if he wore his cupid costume to work that night and was told "Absolutely!"
After we paid the check he told him his service was excellent to which another server walking by overhearing us said: "Well obviously you've never been served by me." All of us laughed at that one.
Jose was the best! He totally made our Valentine's night.
Romantic Restaurants In Maine
Looking for the perfect restaurant to take that special person in your life? We want to help! We've put together a list of 16 romantic Maine restaurants. Keep in mind that some of these restaurants are seasonal, so they may not be open right now.
12 Maine Downtowns That Are Worth A Visit
One of the cool things we have in Maine are a lot of great downtowns. Each one is just a little different and each one has a bunch of great, local, businesses. These are a few you may want to visit in the next year.