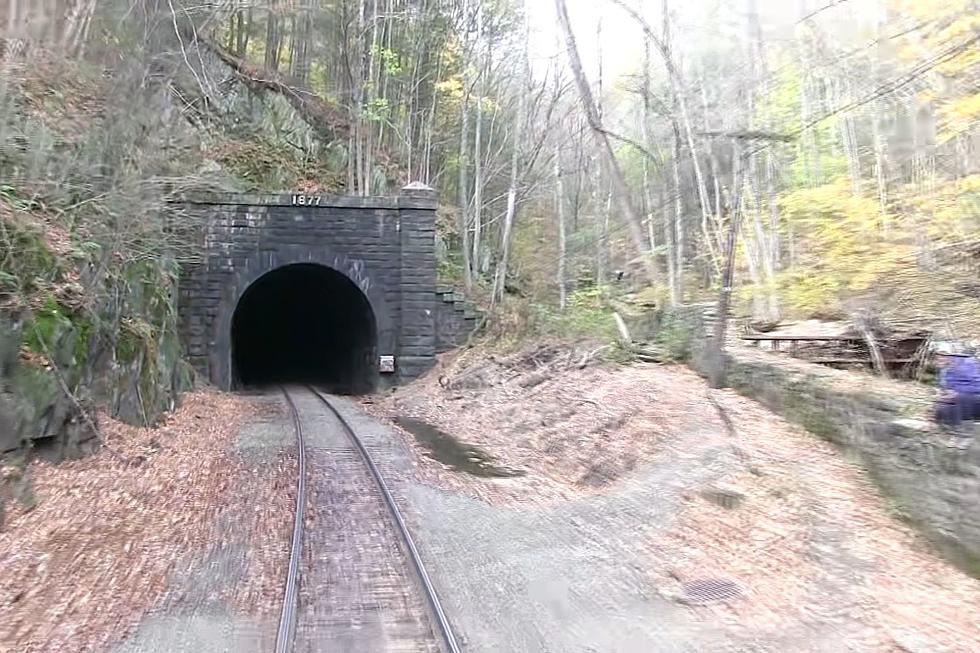 Trip Into Darkness: Exclusive Video Chronicles an Eerie Ride Through Massachusetts' Longest Train Tunnel
IMR Films via YouTube
There's a railroad tunnel in Western Massachusetts that was built through a mountain almost 150 years ago and traveling through it is something you would not want to do if you're claustrophobic or have a fear of enclosed dark places.
Experiencing it in the comfort of your own home, however, has been made possible with a rare video posted to YouTube of a ride through the tunnels shot from the last car of a moving train.
The Hoosac Tunnel is located in Florida, Massachusetts. Yes, there is actually a Florida, Massachusetts as crazy as that sounds. The tunnel was built to cut through the Hoosac Range, part of nearby Vermont's Green Mountains to avoid trains having to climb over them.
Work began in 1851 and the 4.75 mile stretch through the mountain wasn't completed until 1873. Today several railroads travel through the tunnel including CSX, Norfolk Southern and occasionally Amtrak.
In the fall of 2015, the owner of the IMR Films YouTube channel got a rare chance to ride through the tunnel on an Amtrak train and take video off the back deck of the VIP car at the end of the train.
What was captured is a spooky ride through the nearly 5 miles of tunnel, mostly in darkness. You've probably heard the term "the light at the end of the tunnel." That's literally what you see in this video as it gets smaller and smaller as they travel through.
Luckily the camera used has an infrared feature letting us "see" the tunnel in the dark.
So what do you think? Would you ride a train through the sixth-longest train tunnel in North America?
20 Easy Hikes for Mainers Who Don't Actually Like Hiking
20 Things to Know Before You Go to Bank of New Hampshire Pavilion
Concert Season at Bank Of New Hampshire Pavilion: Here are 20 Things To Know Before You Go.