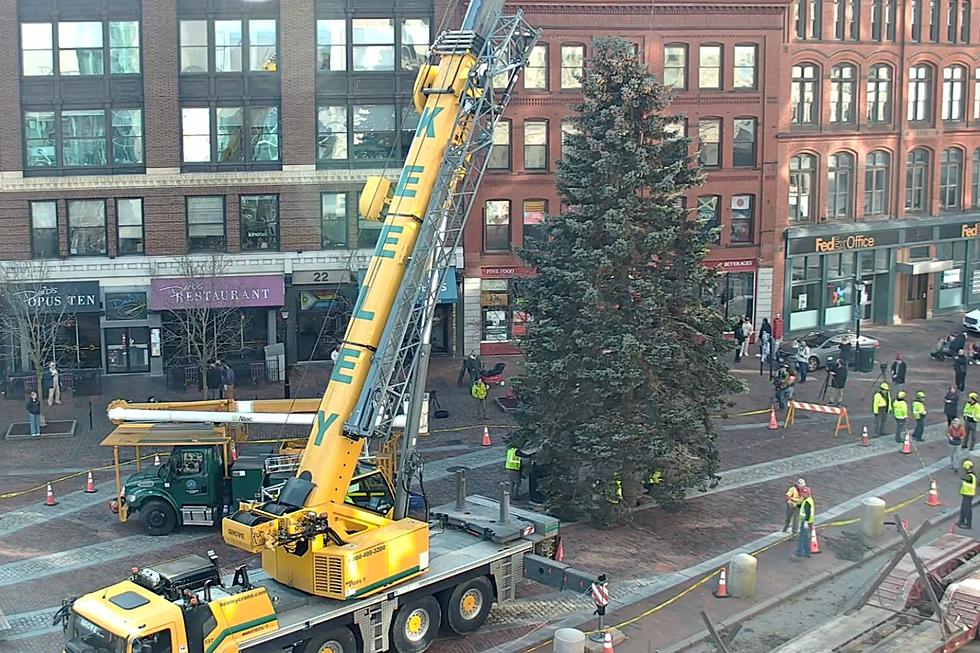 Watch: Christmas Tree Put Up in Portland, Maine
Youtube-Portland Downtown
Okay, so this is a fun little twist on a Christmas tree lighting. Did you know you can live stream the official Monument Square Christmas Tree as the town puts it up in the middle of the city? Watching humans navigate decorating such a monstrous tree is so interesting.
Here are some fun facts about this year's tree, now located right downtown Portland in the middle of all the shops and restaurants.
As fox23maine.com reports,
"The tree is a 50-foot blue spruce from 35 Lubec Street in South Portland. Shaw Brothers Construction will cut down the tree in South Portland around 8 a.m. Tree crews will then get a police escort from South Portland to Portland."

 
Check this out:
It gets even cooler. Think about this. You can take the tree cam with you anywhere on your phone or tablet, because the stream runs 24/7.
A suggestion: put it on the big screen at home and just leave it up all day in the background to feel festive.
The official tree lighting takes place next Friday, November 24, at 6 p.m. Actually, the festivities start at 1 p.m., and include tons of family activities. Check out the schedule here.
I'll just say this, there's free eggnog.
Maine Restaurants Open on Christmas Day
The Holidays are stressful enough and sometimes you don't want to cook. Let's see which restaurants are open for you to go to on Christmas Day in Maine!
Gallery Credit: Lizzy Snyder
Here Are The Best Places to Cut Your Own Maine Christmas Tree
Taking the family to one of Maine's various Tree Farms is a tradition many of us hold dear. Here are the best spots to cut your own tree down this holiday season in Maine.
Gallery Credit: Lizzy Snyder