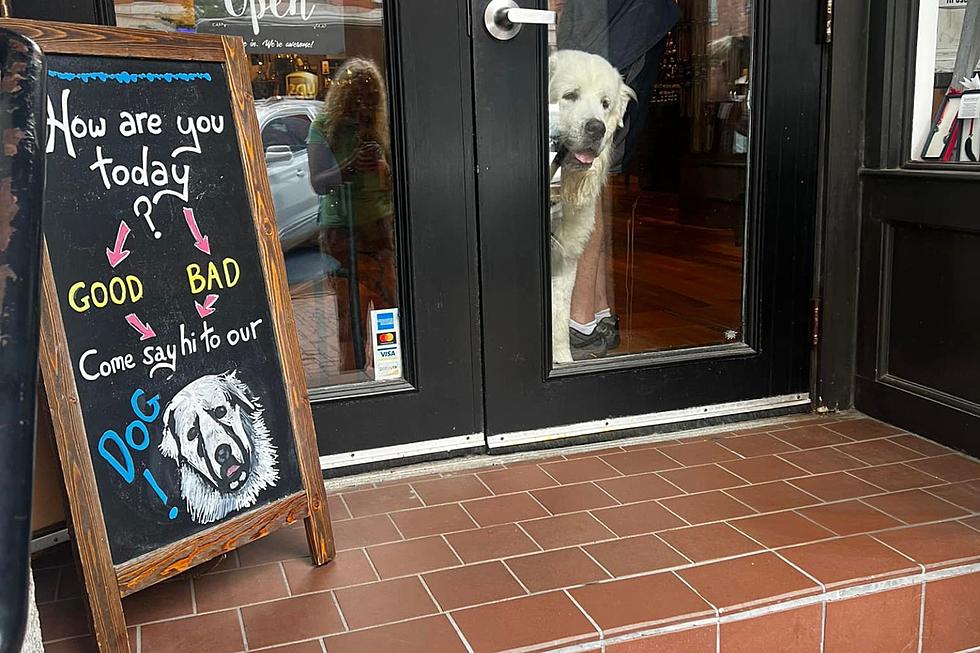 Why Everyone in Portland's Old Port Loves This Pet Me-Seeking Pup
Ellen Bennion via Facebook
If you happen to be walking along the streets of Portland's Old Port doing some shopping or grabbing a bite to eat and one of the many restaurants in the area, you might want to take a moment to go say hello to a dog named Pepe.
Danforth Pewter at 111 Commercial Street is where you'll find Pepe, often at the door looking out at all the passersby. To the left of the entrance is a chalkboard sign with a very good likeness of Pepe that asks, "How are you today?" If you're good you should come and say hi to Pepe. If you're bad, you should also come to say hi to Pepe.
This great photo was originally shared by Ellen Bennion in a Facebook group called Dogspotting. It should come as no surprise that after almost a week it has 621 comments and over 1000 shares with Portland Downtown being one of them.
Pepe is none the wiser about his current celebrity status. He just knows that if he stands at the window, people will come to say hi and pet him. And now that he has gone locally viral, he is going to be a very busy dog. The kind of busy dogs love when they are constantly shown attention and receive pats on the head. I wonder how many times Pepe has heard the phrase, "Who's a good dog?" in the past week.
Want to know exactly where you can find Pepe? Here's a map that should point you right to him. Go say hi!
The Best Fried Clams Along Route 1 in Maine, Ranked
These are Mainers' favorite fried clam spots ranked from generally loved to obsessively loved! Which ones are missing?
The 26 Maine Towns With The Most Reported UFO Sightings
Are we alone in the universe? The answer is no based on the amount of reported UFO sightings in these 26 Maine cities and towns over the last 70 years.